Nottingham is attracting national organisations with large-scale events and conferences set to return to the green, legendary and creative city from 2022 and beyond following a successful showcase at The Meetings Show.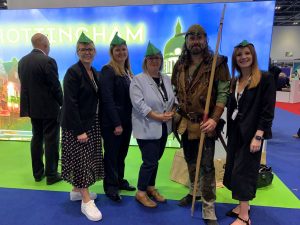 Robin Hood (aka tour guide extraordinaire Ezekial Bone) and the Meet in Nottingham Convention Bureau have returned from the event with promising leads that could result in a series of events being held in Nottingham and support the local economy.
The Meetings Show is the UK's premier MICE (Meetings, Incentives, Conventions and Exhibitions) exhibition. Team Nottingham descended on London for the hybrid event from 30 September to 1 October to strengthen existing relationships, forge new business connections and ultimately bring a variety of events and conferences to the region. In total 1,268 buyers, as well as 991 buyer attendees from the Business Travel Show, were in attendance, making nearly 3,500 appointments between them.
Among the promising enquiries generated is one from a large British Association, which is planning a two-day conference with more than 800 delegates. The event would generate tens of thousands of pounds to the local economy through the booking of conference venues and accommodation as well as local transport, leisure, hospitality and retail businesses.
Robert Dixon, Chief Executive of Marketing Nottingham, said: 
"The Meetings Show was held virtually in 2020, so it's great to be back and networking in-person with the industry to fly the flag for our green, creative and legendary city to events organisers from all over the world.
"Large-scale events can generate hundreds of thousands of pounds for the local economy, all of which will support the city's economic recovery following the COVID-19 pandemic. Meet in Nottingham has returned from the event with some great new business connections. These conversations have created promising leads, including a large British Association-led conference which would generate an estimated £260,000 to the city.
"As the economy starts to open up and we adapt to the 'new normal', we look forward to bringing future business events back to Nottingham and supporting local businesses."
Meet in Nottingham was joined by Robin Hood and stand partners De Vere East Midlands Conference Centre, Orchard Hotel, Jubilee Conference Centre and Hotel, along with Nottingham Conferences, including, David Ross Sports Village and University of Nottingham facilities spanning three unique locations, live at the event at ExCel London.
Melissa Sobo, Director of Sales at De Vere East Midlands Conference Centre and Orchard Hotel, adds:
"The Meetings Show was an excellent opportunity to promote our recent £2.1 multi-million-pound refurbishment of the De Vere East Midlands Conference Centre, which offers state-of-the-art meetings, events and contemporary public spaces. It felt good returning to live industry events and we're delighted as the show enabled us to meet industry contacts as well as build new key relationships which will help bring future events to the city."
Launched in 2013, The Meetings Show is the best platform in the UK for the events, meetings and incentives industry to come together to source, learn and network. https://www.themeetingsshow.com/
Meet in Nottingham is the official Convention Bureau charged with helping companies, associations and event organisers to find and book world-class venues, part of destination marketing organisation Marketing Nottingham. https://meetinnottingham.co.uk/
Posted on 18 October 2021