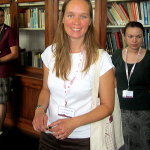 From 2012 to present, Assistant Professor at the University of Nottingham; 2006-2012, RCUK Research Fellow at University of Nottingham, 2002-2005, Research Fellow at University of East Anglia, 2000-2001, Research Fellow at University of Oxford, 1999 Ph.D., University of Nottingham, 1995 B.A. (1998 M. A.) Natural Sciences, Gonville and Caius, University of Cambridge.
My background is in the area of evolutionary biology and genetics. My job here at the University of Nottingham involves teaching undergraduates and conducting research. I established the 'SpiderLab' here at the University back in 2007. The 'SpiderLab' studies the evolution of spiders and of spider silk, focussing in particular on unusual types of silk that some spiders can make. It also works on conservation of particular spiders here in the UK. Examples of current projects include studies of behaviours that allow spiders to 'sail' and thereby move long distances.
The SpiderLab is also involved in a citizen science project that takes science outside the university. The project explains how becoming interested in the natural biodiversity on one's doorstep can be beneficial to our health, and conserve the environment in which we live.
I've agreed to be an Ambassador because I am proud to live and work in Nottingham and would like to promote both the city and the University to a wider academic audience.