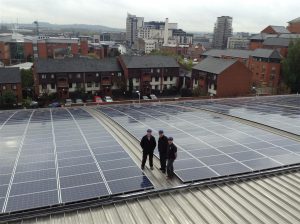 We are delighted to announce that 1,040 solar panels have been installed on the roof of the National Ice Centre and Capital FM Arena Nottingham. The installation of the panels was part of Nottingham City Council's strategy for a energy self-sufficient city, as well as being part of a plan to save approximately £30,000 on electricity each year.
Provided by the EvoEnergy, the solar panels were installed through the summer and it took six weeks to complete. The maximum the PV panels can produce is 249kw which is enough to run a show at the Capital FM Arena Nottingham.
Chris Lewis, Deputy Facilities Manager at the NIC and Capital FM Arena Nottingham said:
We try to consider the environment in everything we do and have been working on an energy and water reduction strategy for the past three years, so it's great that the solar panels are now in place.The estimated amount of electricity generated through our solar panels will reduce our carbon emissions by 25 tonnes of CO2 per year helping us to maintain our status as a 'Greener Arena' and eco-friendly venue.

It's important to mention that the energy generated from the panels can be used throughout the whole venue, so thanks to the panels it's now possible for the ice skating rinks to be generated strictly from the sunlight energy.
Graham Chapman, Deputy Leader of Nottingham City Council said:
Nottingham is the most energy self-sufficient city in the UK and leads the way in solar powered energy production on its main buildings. We have installed them on schools, community venues and leisure facilities. The Arena's array really is smarter energy in action as not only will it create power for the venue, it will also reduce its demand on energy from other sources. It is already showing good returns and I would urge any other organisation which has not already done so to look at the value of solar energy.

Mitch Stevenson, Chairman of the National Ice Centre said:
I am delighted to be involved in this council led strategy; the project is dear to my heart given its contribution to the current economic climate. As part of the energy reduction strategy, the venue has improved its recycling rates, introduced LED lighting and invested in sub metering and a voltage optimisation kit.
To view a time-lapse video from the installation of the panels click here.
Posted on 18 November 2013