Where did it all begin?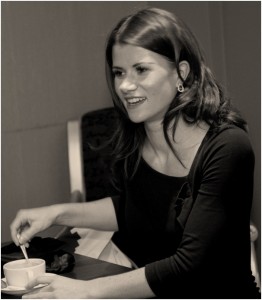 My career started at the age of 16 when I started my first job in a call centre. I had just finished my GCSEs and was looking for a job to earn some money and I landed a job working at Kitchens Direct on Stony Street – selling kitchens over the phone. I then started 6th form and I kept my call centre job. I would finish Sixth Form form at 3:30pm, get the bus straight into town to start work at 5pm and finish at 9pm. After 3 months, I was promoted to Team Leader. Unfortunately, after 1 year, the company went into liquidation and we were all made redundant.
I still wanted a job as well as doing my studies at 6th form so I went to work for a company called Chambers & McClay Legal Services, based opposite the train station. My role was to sell wills over the phone. It was a great job, and great fun (it really wasn't as morbid as it sounds) and in fact, it was much easier than selling kitchens.
After I finished my A levels, I decided to get a 'proper job' so I applied for a job at Skirmish Paintball Games as an Events Coordinator which I loved and was there for 3 ½ years. It was great fun and I learnt so much from being there, but unfortunately, the company could not offer me any further career options, so I decided to look elsewhere. I saw the role at the Galleries of Justice Museum as the Business Development Sales Execustive for the National Centre for Citizenship and the Law (NCCL) (the education department) and thought it sounded interesting – 2 interviews later, I landed the job. After one year I was then promoted to the Marketing Coordinator for both visitor attractions the Galleries of Justice Museum and the City of Caves and I have worked my way up in the organisation to Deputy Marketing Manager.
What do you think makes Galleries of Justice unique for hosting events?
Its history. With a courtroom on site since 1449 and a prison on site since 1375, the museum site is enriched with so much gruesome history. It is the only site in Europe where prisoners could be tried, sentenced and executed on one site. When you walk into our Victorian Courtrooms, or the prison cells, there is a strange sense that you are never alone. You don't get this feeling at any other conference centres or hotels and it is such a beautiful venue with original features – it is a great location to really impress your staff or delegates to give them a day they will always remember.
What's the most memorable event you have worked on so far?
BBC Three Speech. The live television broadcast took 2 full days to set up in our Victorian Civil Courtroom – as we are a listed building, it was not easy. However, the BBC team were such a pleasure to work with and were so respectful of our venue – it was a great success! It was so nice to see a diverse young audience through the doors and to see the museum being used in a different light – it was one of the highlights of my career to date.
What's your favourite area in the Galleries of Justice?

The women's exercise yard next to the women's laundry area. The women's exercise is a third size of the male exercise yard, however, it has great views over the East side of Nottingham city centre and far out. You can watch the world go by and no one knows you are there. On a fine day you can even see Belvoir Castle.
We've heard that the Galleries of Justice Museum has been voted the most haunted building in the UK by paranormal group Fright Nights. Did you experience any paranormal activities yourself?

Yes, that is correct. Touch wood (as I grab my desk in hope) I have not seen or experienced any paranormal goings on. Although sometimes, you have a sense of never been alone, but I think that could be just mind tricks. I don't mind working in a haunted venue – as long as they don't bother me, I won't bother them.
In your spare time what do you like to do in Nottingham?

Spare time? I work 2 jobs, I also work part-time at Iberico World Tapas Restaurant so my only days off are Sundays. I am also studying at the moment so I suppose in 'spare time' if you can call it that, I am studying. Although, I do love to go out for dinner on Sundays – My favourite restaurants to eat are: Iberico (I'm not just saying that because I work there, but seriously, it is AMAZING! Marco Pierre White, inside Alea Casino. They do a great Sunday lunch and so does Lakeside Tower on Mansfield Road outside the city centre.
Posted on 27 February 2015