---

---
UK Ultimate is holding the biggest Ultimate Frisbee tournament of the year in the UK at the Riverside Sports Complex part of the University of Nottingham, on the weekend of 1st-2nd June 2019.
With the event being open to both Open (predominantly Men) and Women's teams, Nottingham Windfarm is going to be another great tournament, with players travelling from all over the UK to compete for the top spot.
The Women's division will contain around 20 teams, with high competition at the top end from UK teams such as Iceni, SYC, and Nice Bristols, and the Open division will consist of approx. 80 teams with top competitive play from teams like Clapham, Chevron Action Flash, and Fire of London.
Haven't heard of Ultimate Frisbee before?
Ultimate is a fast-moving team sport enjoyed by millions of players around the world over. Although frequently compared to sports like soccer or American Football, Ultimate has some unique features that set it apart; there are no referees and it's played with a flying disc. To compete at the highest level, Ultimate players require speed, agility and endurance. Yet beginners find the game easy to learn and fun to play.
The basics…

Ultimate is a game for two teams of seven, played on a field similar in size to a football pitch (see diagram). The last 18 metres at either end of the field are the "endzones". A goal is scored when you throw the disc to a member of your team standing (or more likely running) in the endzone your team is attacking. Players cannot run with the disc so when a player catches the disc, they must come to a stop. A team can therefore only move the disc upfield by throwing it from player to player.
The defending team takes possession if the disc touches the ground, or if they make an interception by catching the disc or knocking it to the ground in mid–flight. Also, the game is non-contact, so when contact between players does occur it may be deemed a foul.
The winner is the first team to reach a previously decided number of goals, typically fifteen!
Want to find out more?
If you have any questions about the event or want to find out more information about coming along to watch, please email Meg Price.
---
For group accommodation please contact Visit Nottinghamshire's Business Visits & Events team (0115 962 8320) – they can help you find the right hotel for your group and assist with negotiating rates.
---
EXCLUSIVE FOOD AND DRINK, THINGS TO DO AND STAY OFFERS
To help you make the most of your stay, we're delighted to offer you some exclusive deals. To redeem them simply present the offer along with proof of event participation.
                   Food and drink offers                                                                                                             Things to do offers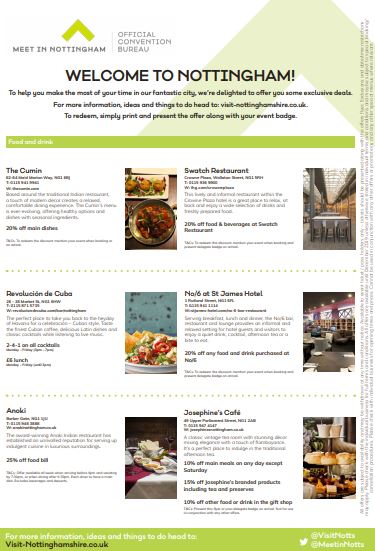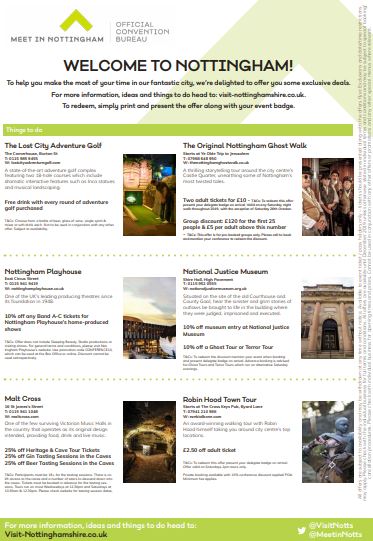 ---
VENUE INFORMATION
Just a short way from University Park campus, the Riverside sport complex offers over 150 acres of grass sports fields as well as 2 brand new pavilions with extensive changing and meeting facilities.
---
SPONSORS