Welcome to Nottingham! We hope you will enjoy your time in our beautiful city and take advantage of all benefits we're offering to the UK Corporate Games participants. Below you'll find useful information, travel details, various discounts, hotel rates and allocations and dinner venues information that will help you plan your stay, explore the city and the county, and make the most out of your time.
Please don't hesitate to contact our Conferences and Events Team if you have any queries, we're here to help.
---
EXCLUSIVE FOOD AND DRINK, ATTRACTION AND TRANSPORT OFFERS
To help you make the most of your stay, we're delighted to offer you some special deals. To redeem simply print and present the offer along with your event badge.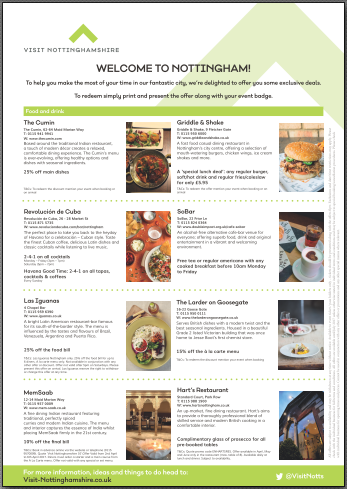 DINNER VENUES
If you're looking to organise a dinner, event or party during the Corporate Games, please contact Rachel Stewart, Event Manager at Visit Nottinghamshire. We've got a host of venues in Nottinghamshire – whether you're looking for an intimate meeting room for networking or a private dinning area, we've got a venue to suit all your requirements.

HOTEL RATES AND ALLOCATIONS
Please contact us for all city centre accommodation (0115 962 8320) – we can help you find the right hotel for your group and assist with negotiating rates.
All rates are for double occupancy unless otherwise stated.  Group Bookings are available on request.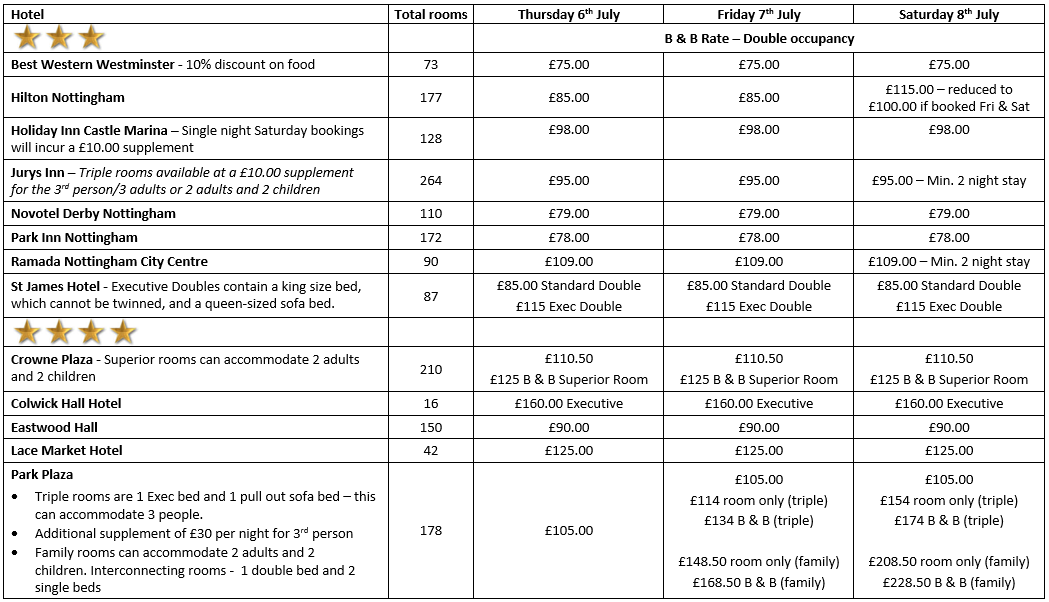 TRANSPORT INFORMATION
TRAM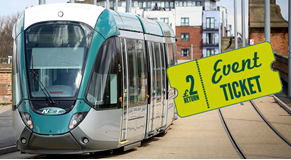 We've teamed up Nottingham Express Transit to offer just £2 travel on the city's award winning tram network. Simply purchase an Event Ticket from any of the ticket machines located at every tram stop on the day of event.  Ensure that you have both your tram ticket and valid event ticket or pass before you board and have it to hand when requested by one of the travel officers.
The Event Ticket entitles you to travel on the tram network throughout the day and is not valid without your Corporate Games pass.  Tickets will need to be purchased for each day of travel.
David Ross Sports Village / University of Nottingham / Orchard Hotel
For travel between the DRSV/University of Nottingham and the city centre, you will need to use the Toton Line.  For the DRSV you will need the University Boulevard stop (not the University of Nottingham).  DRSV less than a 10 minute walk from the Tram stop.
Games Party – Nottingham Trent University
The Hucknall Tram will provide you with access to the city centre. Simply use the University Boulevard Tram stop.  For city centre attractions, restaurants and bars please exit at The Old Market Square stop.
For the Games Party at Nottingham Trent University Students' Union Building, then please exit at the Nottingham Trent University stop located on Goldsmith Street.  The last Tram going back to DRSV/University of Nottingham is approximately 0030 hours.  Further information (ie, maps, timetables) can be found on the NET website.  There is also a video which may be helpful for those travelling by tram for the first time in Nottingham.
---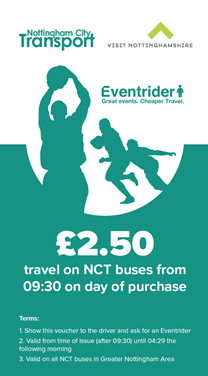 BUS
Nottingham City Transport have provided all Corporate Games participants with all day travel for £2.50 on all NCT buses from 9.30 am on the day of purchase. Simply request an Event Rider ticket with getting on the bus and show the voucher (shown on the right) which can also be downloaded.
For relevant bus information, during the UK Corporate Games please see below schedule: