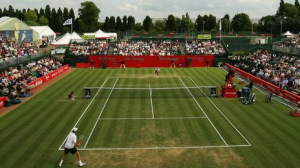 Following extensive partnership discussions with the Lawn Tennis Association (LTA), Nottingham City Council is proud to announce that in 2015 Nottingham Tennis Centre will host two highly prestigious pre-Wimbledon grass court tournaments: the Men's ATP 250 tournament and the Women's WTA International tournament.
The tournament is the effective return of the Nottingham Open, a popular tournament that has been won in the past by Andy Murray, Ivo Karlovic and Greg Rusedski.
The Men's ATP 250 tournament will be staged in the week immediately before the Wimbledon Championships, providing players from the world's top 50 men an excellent environment in which to train, compete and finalise their preparations for Wimbledon. This will effectively see the return of the Nottingham Open for 2015 which was last held in Nottingham in 2008 and whilst the event has been agreed by the ATP for initially one year, if the event can prove its place in the men's tennis calendar it could be secured for future years.
The new WTA International tournament, with agreed prize money of $250,000, will be held in the week immediately after the Roland Garros French Open (so beginning two weeks before the Men's ATP 250 tournament) and this event has already been secured for a minimum 3 year period 2015-18.
Nottingham Tennis Centre has been selected as the venue for these prestigious tournaments thanks to recognition from the ATP and WTA of the international standard of facilities.  Nottingham Tennis Centre is the largest public tennis centre in the UK with 39 courts including 11 indoors, 9 grass and 19 hard courts.  The facilities can comfortably accommodate the requirements of both tournaments, beating competition from the Edgbaston Priory Club in Birmingham and Devonshire Park, Eastbourne.
The new and emerging partnership that has been developed between Nottingham City Council and the LTA has helped secure these events with limited financial input from Nottingham City Council.
As part of the tournament, the current 'Nottingham Festival of Tennis' will be developed to involve even more local schools. The Festival of Tennis is a schools tennis programme attracting hundreds of local schoolchildren to the site to play tennis and then watch the professionals on court.
Councillor Dave Trimble, Portfolio Holder for Leisure and Culture and Tourism at Nottingham City Council said:
"It's excellent news that this prestigious tournament, with its world class tennis players, is returning to Nottingham. This event will add to our already fantastic reputation as a globally recognised city of sport, as well as helping to increase interest and participation in tennis for local people.

We're also anticipating a number of economic benefits as a result of hosting the tournament, which will draw players, broadcasters, and spectators from around the world."
Posted on 10 February 2014