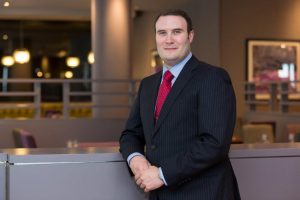 In this month's feature we speak to Niall Mitchel – General Manager at Jurys Inn Nottingham – about his early career days, his new position, his famous friends, and much more.
Where did it all begin?
Washing dishes and making beds! I must say, I have had fantastic support from Jurys Inn over the years as they developed me into who I am today. I've been working in hotels for quite a few years, but I received my first Duty Manager position at the Jurys Inn Galway back in 2006 after completing a Business in Hotel Management degree at GMIT Galway. From there I went on to hold the position of Food and Beverage Manager. I moved to the UK in 2008 and joined the team at Jurys Inn Edinburgh as a Front Office Manager, and over the next four years I obtained the position of Revenue Manager at Jurys Inn Edinburgh and then Jurys Inn Glasgow. I moved from Scotland down south to Birmingham as Operations Manager of Jurys Inn Birmingham, and was then promoted to the role of Deputy General Manager the following year. I was then lucky to have the opportunity to complete a three month Interim position as General Manager at Jurys Inn Aberdeen at the end of 2014. I've now just recently moved to the lovely city of Nottingham as General Manager of Jurys Inn on Station Street, and it is a very exciting time for me and the team, as we will be undergoing a full refurbishment in October this year.
What do you think makes Jurys Inn Nottingham great for holding small events?
Our friendly consistent service is definitely number one for me. We have designated conference coordinators, who offer a fantastic service and will see your meeting or event through from start to finish. We are fortunate to have a designated conference floor in our hotel consisting of 10 medium sized meeting rooms, all of which are equipped with state of the art communications and presentation equipment. Being the hotel with the highest number of bedrooms in Nottingham, we are able to offer fantastic overnight and residential conference rates, our guests are able to keep their group together in one venue, hold their meeting by day and wine and dine by night. Our location on Station Street not only allows our guests to stroll to the hotel from the train station in the morning, but also provides easy access to Nottingham's restaurants, cafes and attractions in the evening.
What's the most memorable event you have worked on so far?
My most memorable one to date must be the Conservative Conference. Jurys Inn was a designated Fringe event venue for the past two Conservative Conferences, it was an extremely busy time for the hotel but great fun too! We had to cater for a few thousand delegates each day. I have never seen so much tea and coffee in my life!
What's your favourite area in the hotel?
I can't pick one! I've worked in nearly all areas of the hotel throughout my career, and I like each and every one of them. It's all about the team and the people for me.
We heard you went to school with some famous people, tell us more?
Yes! I grew up in Sligo, North West Ireland – one of the town's "claims to fame" is that it is where the band Westlife originated from, and three of the band members went to the same school as me. I remember them singing in a school concert years ago – it was hard to imagine back then that they would end up as international popstars! Sligo is very proud of the lads for what they achieved, and I'm sure they've inspired a lot of people.
What are your goals for the future?
Well, my immediate focus is the upcoming refurbishment of Jurys Inn Nottingham, which starts in October 2015, and will be finished in 2016. This is a very exciting time for us and my main goal will be to ensure that Jurys Inn is the leading hotel of its kind in Nottingham.
Posted on 20 October 2015